Tanzania Safari / northern circuit on wheels (All year around)
DAY 1:Arrive Kilimanjaro international airport / Arusha
The Journey begins on arrival at Kilimanjaro international airport, where you will be met by your Tanzania safari representative and transferred by road for about one hour to your lodge in Arusha town.
DAY 2:Arusha / Tarangire National Park
Your Tanzania safari guide will pick you up at the reception. You will drive to Tarangire National Parksituated within Tanzania's spectacular Manyara Region. Move on through an awe-inspiring national park comprising of granite ridges, river valleys, mixed vegetative landscapes, and free-roaming wildlife. You will arrive at your lodge for lunch then after a short rest you will head out to the afternoon game drive.
DAY 3:Tarangire National Park
Head out with picnic lunches from the lodge for the full day game drive in Tarangire National Park.During the annual dry season the Tarangire River is a magnet for thirsty wildlife. Large herds of elephants and migratory wildebeest, zebra, buffalo, impala, gazelle, hartebeest and eland gather and not surprisingly the predators follow.
With lion being among the most commonly spotted animal, it is a rare day that a visitor does not spot this majestic animal prowling or grazing. Tarangire is also the one place in Tanzania where dry-country antelope such as oryx and gerenuk are seen regularly. This expansive area is also known for its spectacular baobab trees, its breathtaking views of the Maasai Steppe and the wondrous mountains to the south
DAY 4: Tarangire National Pak / Serengeti National Park
Check out with lunch boxes and rive to Serengeti National Park,From Tarangire, the road to Serengeti National Park takes you through the Ngorongoro Conservation Area, a spectacular area with panoramic views over the crater hundreds of meters below.
You drive straight across the heart of the Serengeti National Park, the area of the Seronera Rivier. This adventure road trip takes about 6-7 hours; the road is partly paved, mostly sandy and bumpy. This   afternoon game drives in the way.  When you arrive at your lode, you will have a leisure evening
DAY 5: Serengeti National Park
Situated in the heart of Tanzania, the Central Serengeti encompasses the world-famous Seronera Valley which is known for its prime wildlife-viewing opportunities. This picture-perfect landscape is characterised by endless stretches of savannah-covered open plains, interspersed by rocky outcrops of granite, scattered with acacia woodlands and covered in a network of rivers and streams.
The Central Serengeti forms part of the great wildebeest and zebra migration and provides an ideal habitat for a variety of wildlife such as giraffe, impala, waterbuck, hippo, elephant, buffalo, lion, leopard, hyena, jackal, serval and much more. Popular activities include: game viewing, cultural tours, horse riding safaris, and hot air ballooning over the spectacularly scenic terrain.
DAY 6: Serengeti National Park / Ngorongoro Crater
Leave the lodge with lunch boxes and drive for about three hours to the Ngorongoro crater floor for game viewing. Roads are sandy and bumpy.The main feature of the Ngorongoro Conservation Authority is the Ngorongoro Crater, the world's largest inactive, intact and unfilled volcanic caldera.The crater, which formed when a large volcano exploded and collapsed on itself two to three million years ago, is 610 metres (2,000 feet) deep and its floor covers 260 square kilometres (100 square miles).Estimates of the height of the original volcano range from 4,500 to 5,800 metres (14,800 to 19,000 feet) high. 
The crater floor is 1,800 metres (5,900 feet) above sea level. The crater was voted by Seven Natural Wonders as one of the Seven Natural Wonders of Africa.Approximately 25,000 large animals live in the crater   include the black rhinoceros, African buffalo or Cape buffalo,  Hippopotamus ,  wildebeest, Grant's zebras, Eland, Grant's and Thomson's gazelles, Waterbucks , lions, Rhinos to name some few.Lake Magadi, a large lake in the southwest of the crater, is often inhabited by thousands of mainly lesser flamingoes.After this exciting game drives, you will proceed to your lodge for eve night at leisure.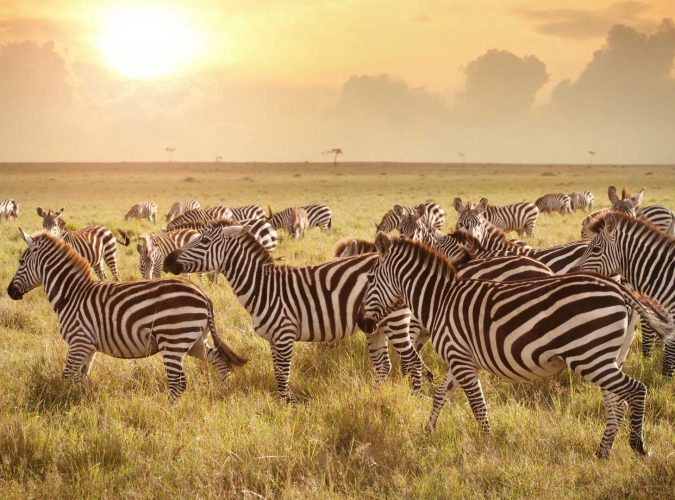 DAY 7: NGORONGORO / ARUSHA – DEPARTURE
Enjoy breakfast then check out and drive about two hours in mostly paved roads to Arusha town. The road takes you through Karatu, Mto wa and Lake Manyara National Park. Depending on the time of your international departure flight, you can do a game drive in Manyara national park or enjoy other optional availed excursions.
You may have a day room at Arusha or you may drive direct to Kilimanjaro international airport for your departure flight.